Are you looking for a rhyming poem generator then this list is for you?
Whether you are looking for a funny rhyme poem or a name poem rhyme.
Most of the websites will randomly generate a rhyming poem while some of them would ask you to use your words for the first line.
Let's begin. It has a simple interface. It is different from the other rhyming poem generators because it uses a different input.
What I mean is this.
When you get to the website. It will ask for your Twitter handle.
No signup.
All you need is a Twitter name. You can use any Twitter name.
It will then ask you to choose the kind of poem you want it to make.
A 14 line rhyme poem
Best for love poems.
It has two stanzas
Made from sonnet with eight verses 3-3-1-1 pattern. It was made by the Spanish poet Isidro Horat. 
After which it makes the poem. If you are not satisfied with the poem you can start over. If you like the poem you can share it.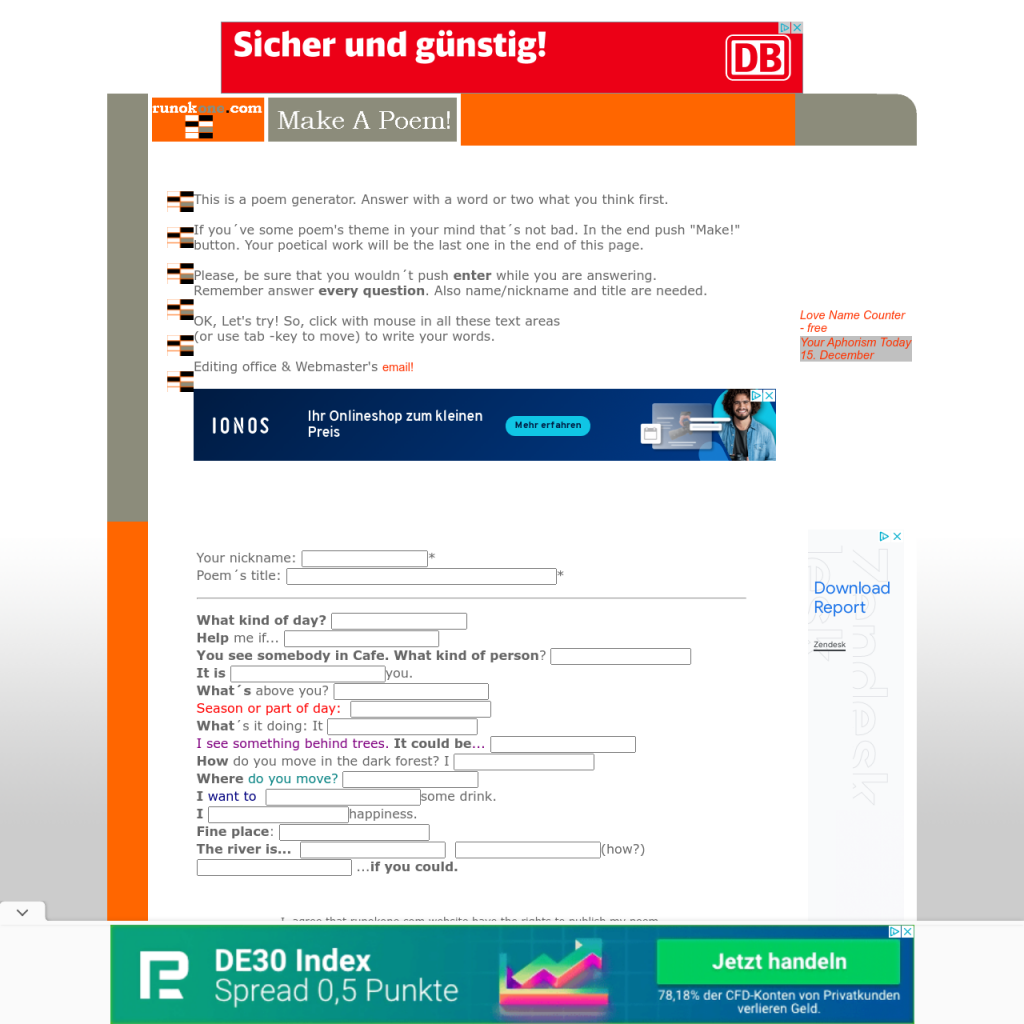 If you are looking for a highly unique rhyming poem generator using most of your words runokone is for you.
It provides a template of questions that it uses to make a rhyming poem.
When I say QUESTIONS I mean questions.
When you put in your words on things like your nickname, poem title, what kind of poem, etc.
Click on generate.
Scroll down to the bottom of the page to see your poem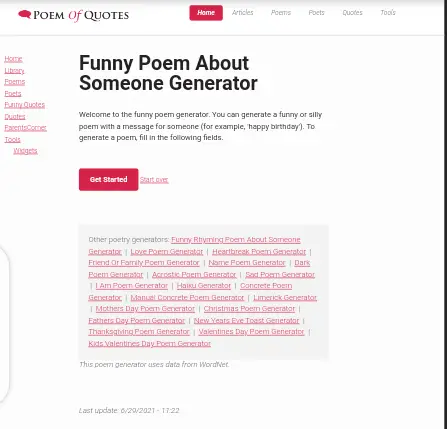 This is a multi poem generator but it also has a portion for rhymes.
You can either create romantic poems or funny rhyme poems using it.
You will have to answer a few questions in the text box.
Next, you click on the generate to make a poem. If you are not satisfied with the poem you can refresh to regenerate another poem.
Make Concrete Poems with these free Concrete Poem Generators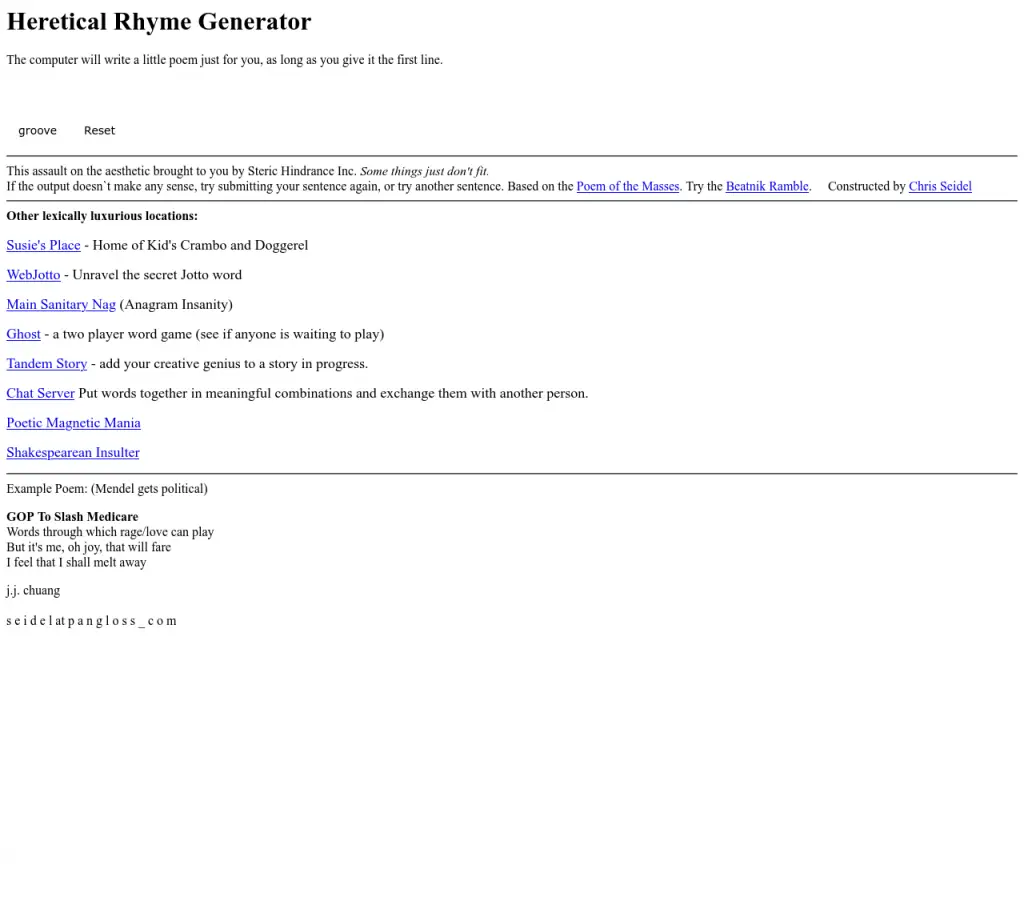 It is also referred to as the Bad Poetry Generator.
It's the interface is minimal. 
However, it requires you to give the first line.
If you don't have an idea for the first line no trouble as it will create a poem for you if you click on generate.
It makes a one stanza poem that is sometimes meaningful.
If you don't like the poem you can start over by using a different first-line or click on refresh to make another poem.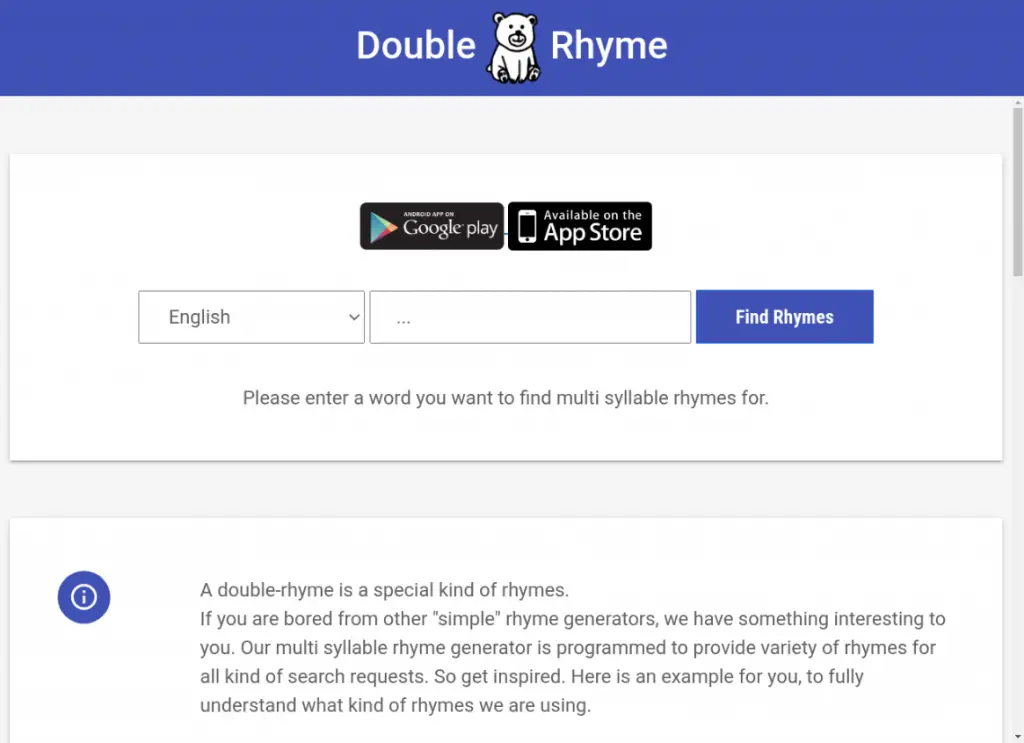 It is available online and on iOS and Android.
While this is not a rhyme poem generator. You can use it to generate rhymes for your words. Type the word in the text box, andt will generate a list of rhymes.
In a strict classification, this is a rhyme generator. 
You would find it useful when you are writing a rhyming poem.
You can also try out these acrostic poem generators
Conclusion
Now it's your turn which of the rhyming poem generator are you going to use first. 
Are you going to use poetweet to create rhyme poems from your tweets or double Rhyme to get rhyme ideas for your poems?
I would love to know.
Let me know in the comments section.